---
Dear Bartleby
Dear Bartleby, Tutting-on-Cress is so small as to be idyllic. Hate it already.
Sent down from Oxford for playing one prank too many, Sebastian Hartford is well aware that he's a disappointment to his family. Ordered to stay with — and learn from — two of his more respectable older siblings, Seb is prepared to be miserable in the country.
Saddled with extracurricular schooling to keep him out of trouble, Seb can only let his mischievous mind run loose on the pages of his journal, "Bartleby." But when he is offered a job as a spellcaster's assistant to the enigmatic Lord Finlington, Seb's creative flair finds a place to flourish.
Soon, he is at the center of a search for a new Royal Spellcaster to the Crown — and falling in love with one of the contenders.
But right as a future with a man who loves him starts to unfold, Seb's past mistakes threaten to bar him from securing happiness. And jumping through social hoops may prove his growth to everyone — except himself.
Dear Bartleby is out now!
---
The Education of Pip
A new beginning.
After being released from prison, Pip Standish is spirited away to Tutting-on-Cress, thanks to the dashing Viscount Finlington. As he settles in with his new friends, Pip discovers his education not only involves reading and magic, but how to be happy, how to trust others with your heart, and how to move on from a painful past.
This new adult fantasy is the third book in the Meddle & Mend series. It is a continuation of Pip's story from One Good Turn.
What readers are saying about The Education of Pip:
"The Education of Pip is a cathartic, heartfelt little story. This is a quiet, character-focused series […] you'll be enchanted by Wallace's hopeful world and charming cast of characters." – CL Jarvis on Goodreads
"I just cannot say enough how much I love Wallace's characters, and getting to read these books where good things happen to them is just the absolute best." – Wayward Bookshelf on Goodreads
"I love these characters So. Dang. Much! I'm SO happy we got to read about Pip's story. I loved him from the moment he showed up in the second book, and of course Bertie has been a favorite from the very beginning. The found family in this story, the unconditional support for someone struggling to move forward from a difficult past, and of course one of my favorite forms of magic I've ever read about... this is my new favorite in the series, for sure." – @S.O.Callahan on Instagram
"You know that feeling of sitting on the couch, cuddled up under a blanket with your cat and a steaming hot cup of tea? That's exactly what I felt like when I was reading this book. That alone should be enough to convince you to read it too" – @bellsbooksandwritings on Instagram
"I said it before and I'll say it again: this book gave me a praise kink. Seriously though, I love Pip and I love how sweet all the characters are with him […] and it's just so sweet I could die" – @lelliereads on Instagram
"The Education of Pip was such a delightful read. It's the kind of book to read on a rainy day." – @nila_the_booknerd on Instagram
---
One Good Turn
A reformed thief, a childhood best friend, a powerful crime lord, a magical viscount…and one good deed that will change their lives forever.
Nell Birks longs for a life outside of crime and poverty. When she rescues the wealthy Mr. Kentworthy from a gang of thieves, her life takes one surprising turn after another. Nell soon finds herself immersed in a glittering new social sphere, full of magic, luxury, and exciting possibilities. As she searches for her place in the world, she finds new friends and, ultimately, herself.
This new adult fantasy is the second book in the Meddle & Mend series. It takes place shortly after Letters to Half Moon Street but can be read as a standalone.
What readers are saying about One Good Turn:
"I've been jonesing for a simple, cozy read, and so when I got a copy of this book, I gobbled it right up in one sitting…Fans of cozy fantasy like Baldree's Legends & Lattes will enjoy the Meddle & Mend series, along with anyone who is just looking for a gentle read with some great characters to follow and enjoy." – Wayward Bookshelf on Goodreads
"Love, love, love this story!" – @S.O.Callahan on Instagram
"I loved Nell! As a main character, she was compelling….I found a darling girl and her kind friends, and a wonderful story about finding home." – rellekh on Goodreads.
"Overall, this was a really lovely, cozy read and I can't wait to see what Sarah has in store next." – @kodyreadseverything on Instagram
---
Letters to Half Moon Street
I must have been drunker than I realized because all I remember is how well he tied his cravat and how perfectly his coat fit him…
London, 1815: where magic can be purchased at convenience, and the fashionable and wealthy descend for the start of the social Season. But 25-year-old Gavin Hartford finds the city intimidating when he arrives, alone, to his family's townhouse. The only company he seeks is in his beloved books and weekly letters to his sister, Gerry.
Then dashing man-about-town Charles Kentworthy gallantly rescues Gavin from a foolish drunken mishap and turns his life upside-down. With Mr. Kentworthy, Gavin finds himself discussing poetry and magic, confessing his fears about marriage, expanding his social circle to shocking proportions — and far outside his comfort zone.
When family responsibility comes knocking, Gavin's future looms over him, filled with uncertainty. As he grapples with growing feelings for his new friend, Gavin will need to be honest with Mr. Kentworthy — but he'll need the courage to be honest with himself first.

This epistolary Regency romance is the first in a historical fantasy series, Meddle & Mend.
Haven't read Letters to Half Moon Street yet? Buy it now! Available on all platforms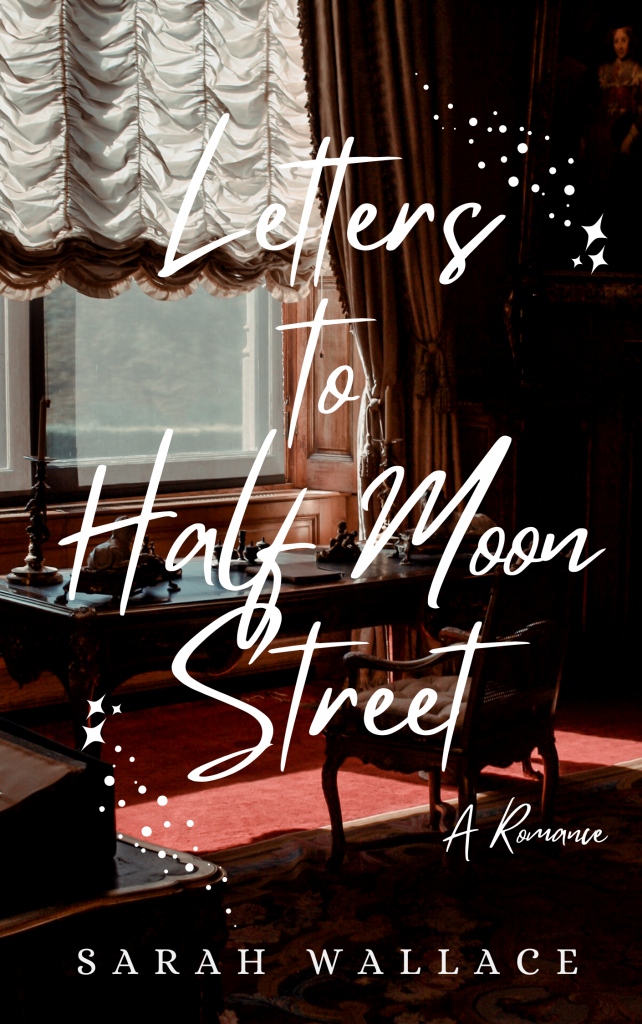 What readers are saying about Letters to Half Moon Street:
"I could not put it down! Watching Gavin bloom and come alive was such a joy. And I swooned over Charles and Gerry and Finlington. … Love Jane Austen or Bridgerton but wish it was queer and had magic? This is for you." – Karen Hester @Readitandweavestudio on Instagram
"This was a really fun read and I'm excited for everyone else to know about it." – Kay @bookschaosnart on Instagram
"This was the coziest hug of a story!…The ending left my heart happy!" – @ahatforeveryread on Instagram
"the writing style and storyline make this story feel like a warm cup of tea in autumn. Just cozy and engrossing." – ashleyscout on thestorygraph
"Reading Letters to Half Moon Street was an absolute treat" – Anna Reads Here on Goodreads
"Gavin and Charles have quickly become one of my favorite literary couples. And I really love all the familial relationships in the book. I am already envisioning re-reading this book every year. I can't wait for the rest of the series!" – Alexis Howard on Goodreads
"a charming, heartwarming, and feel good way to spend some time" – @basicallyhansolo on Instagram
"This is a novel that really speaks to me on an aesthetic level." – @lelliereads on Instagram
"A queer historical romance, with wit, sparkling banter, amazing representation and heart. Pick up a copy, you will not regret it!" – @AllisonMarie28 on Instagram
"SO MUCH QUEERNESS… it was AMAZING!…the drama, the tension, the HEAT." – Georgia Richardson on Goodreads
"If you want a feel-good, queer book then this is right for you!! I encourage everyone to read this asap" – @bookshelfofbee on Instagram
"What a wonderful book!" – Annabel on Goodreads
"I loved this book!" – @queerandfantasybooksreviews on Instagram
"a delightful romance with queer and fantasy themes, set in a well-known city and era topped off with a beautifully bingeable format. I loved it" – @bookswithbecki on Instagram
"I'm so glad I took a chance on this book, because it was so fluffy and so beautiful!" – anniek on Goodreads
"When I tell you this was the most wholesome, soft queer romance I've read recently! I'm not lying! … I found myself smiling fondly the whole time I was reading" – @bookthesimple on Instagram
"I am in awe of this book, I absolutely loved Gavin and Charles together." – @chaibooksandthemoon
"Regency era! Magic! A beautiful range of LGBTQ+ characters! This book gave me everything I wanted and MORE!" – @softestreader on Instagram
"Letters to Half Moon Street is an excellent little escape for those of us who enjoy a fresh take on Regency romance, and I treasured reading it. If you like queer romance, regency-era fiction, epistolary novels, or are just looking for a sweet, gentle read with lower stakes and a happy ending, you'll definitely want to give this book a try." – WaywardBookshelf on Goodreads
"Delightfully sweet and charming" – Abigail on Goodreads
"Absolutely cannot WAIT for the next book in the series!! The characters are charming and unique, the world building is lush and believable despite the magic (which was a fun element!). It was lovely to get swept up in such a tender story of being loved for who you are and finding joy." – Kay Leyda on Goodreads
"I was captivated from start to finish" – @Annareadshere on Instagram
"I adored the format of this book…The author manages to capture the emotion and drama of the characters perfectly…Absolutely can not wait for the next book within this series to come out!" – @beccas.library on Instagram
"Holy freaking nuts, I loved this." – Anna on Goodreads