The next installment of Meddle & Mend is coming out November 5!
A reformed thief, a childhood best friend, a powerful crime lord, a magical viscount…and one good deed that will change their lives forever.
Nell Birks longs for a life outside of crime and poverty. When she rescues the wealthy Mr. Kentworthy from a gang of thieves, her life takes one surprising turn after another. Nell soon finds herself immersed in a glittering new social sphere, full of magic, luxury, and exciting possibilities. As she searches for her place in the world, she finds new friends and, ultimately, herself.
This new adult fantasy is the second book in the Meddle & Mend series. It takes place shortly after Letters to Half Moon Street but can be read as a standalone.
---
Haven't read Letters to Half Moon Street yet? Buy it now! Available on all platforms
When shy and bookish Gavin Hartford is sent to London, he is prepared to be very bored and very lonely. But after he accidentally forms an acquaintance with dashing man-about-town Charles Kentworthy, his life is turned completely upside-down. Mr. Kentworthy seems determined to educate Gavin on how to enjoy city life. As Gavin opens up to Mr. Kentworthy—discussing poetry and magic, confessing his fears about marriage, and expanding his social circle to shocking proportions—he finds himself far outside his comfort zone. Will he have the courage to face his own growing feelings for his new friend?
This epistolary Regency romance is the first in a historical fantasy series, Meddle & Mend.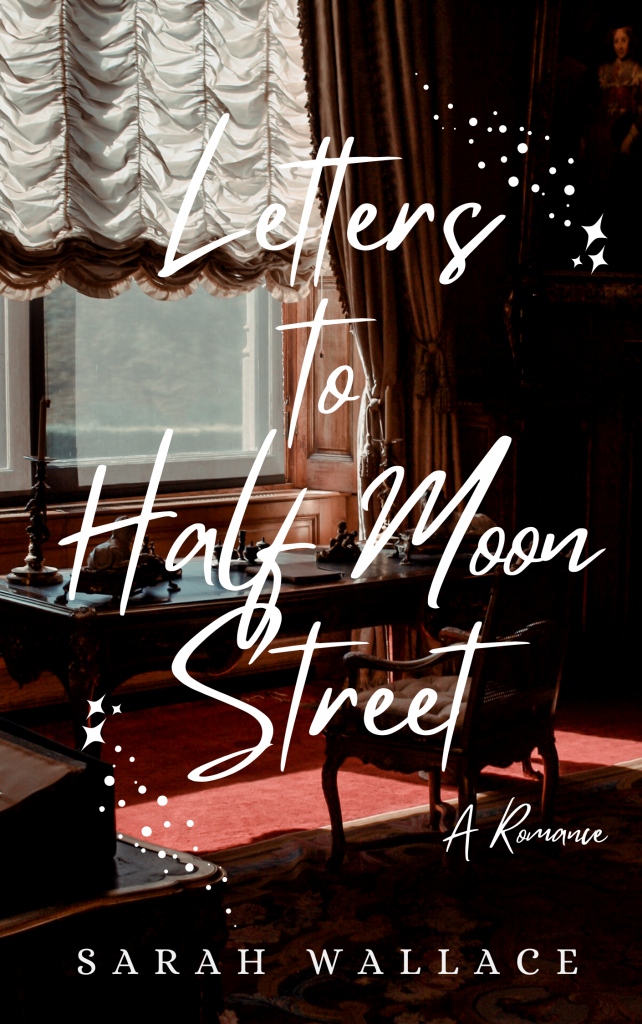 What readers are saying about Letters to Half Moon Street:
"I could not put it down! Watching Gavin bloom and come alive was such a joy. And I swooned over Charles and Gerry and Finlington. … Love Jane Austen or Bridgerton but wish it was queer and had magic? This is for you." – Karen Hester @Readitandweavestudio on Instagram
"This was a really fun read and I'm excited for everyone else to know about it." – Kay @bookschaosnart on Instagram
"This was the coziest hug of a story!…The ending left my heart happy!" – @ahatforeveryread on Instagram
"the writing style and storyline make this story feel like a warm cup of tea in autumn. Just cozy and engrossing." – ashleyscout on thestorygraph
"Reading Letters to Half Moon Street was an absolute treat" – Anna Reads Here on Goodreads
"Gavin and Charles have quickly become one of my favorite literary couples. And I really love all the familial relationships in the book. I am already envisioning re-reading this book every year. I can't wait for the rest of the series!" – Alexis Howard on Goodreads
"a charming, heartwarming, and feel good way to spend some time" – @basicallyhansolo on Instagram
"This is a novel that really speaks to me on an aesthetic level." – @lelliereads on Instagram
"A queer historical romance, with wit, sparkling banter, amazing representation and heart. Pick up a copy, you will not regret it!" – @AllisonMarie28 on Instagram
"SO MUCH QUEERNESS… it was AMAZING!…the drama, the tension, the HEAT." – Georgia Richardson on Goodreads
"If you want a feel-good, queer book then this is right for you!! I encourage everyone to read this asap" – @bookshelfofbee on Instagram
"a proper fluffy lovely romance" – @aliceandherbookshelf on Instagram
"What a wonderful book!" – Annabel on Goodreads
"I loved this book!" – @queerandfantasybooksreviews on Instagram
"a delightful romance with queer and fantasy themes, set in a well-known city and era topped off with a beautifully bingeable format. I loved it" – @bookswithbecki on Instagram
"a joy to read" – @signediza on Instagram
"I'm so glad I took a chance on this book, because it was so fluffy and so beautiful!" – anniek on Goodreads
"When I tell you this was the most wholesome, soft queer romance I've read recently! I'm not lying! … I found myself smiling fondly the whole time I was reading" – @bookthesimple on Instagram
"I am in awe of this book, I absolutely loved Gavin and Charles together." – @chaibooksandthemoon
"Regency era! Magic! A beautiful range of LGBTQ+ characters! This book gave me everything I wanted and MORE!" – @softestreader on Instagram
"Letters to Half Moon Street is an excellent little escape for those of us who enjoy a fresh take on Regency romance, and I treasured reading it. If you like queer romance, regency-era fiction, epistolary novels, or are just looking for a sweet, gentle read with lower stakes and a happy ending, you'll definitely want to give this book a try." – WaywardBookshelf on Goodreads
"Delightfully sweet and charming" – Abigail on Goodreads
"Absolutely cannot WAIT for the next book in the series!! The characters are charming and unique, the world building is lush and believable despite the magic (which was a fun element!). It was lovely to get swept up in such a tender story of being loved for who you are and finding joy." – Kay Leyda on Goodreads
"I was captivated from start to finish" – @Annareadshere on Instagram
"I adored the format of this book…The author manages to capture the emotion and drama of the characters perfectly…Absolutely can not wait for the next book within this series to come out!" – @beccas.library on Instagram